Water Filtration Options for Swimming Pools
Did you know that improper filtration could allow your backyard pool to become a breeding ground for potentially dangerous waterborne illnesses?
These creepy crawlies include Norovirus, Giardia, Legionella, Crypto, and a wide variety of algal toxins. For swimmers, these hard-to-pronounce names translate to skin irritation, ear and eye infections, digestive disorders, and other uncomfortable symptoms.
The solution? Save and effective water filtration that stops germs and bacteria in their tracks.
Read on to learn about the different filters on the market and decide which is right for you.
Pool Filters Made Easy
Pool filters come in a few primary types – cartridge, sand, and D.E. – or diatomaceous earth.
While these systems all work slightly differently, they share a common goal – filtering your pool's sanitized water to remove water contaminants and health hazards. Without a filter, your pool's water might be clean, thanks to chlorine or other sanitizing chemicals. But, it would still look cloudy and contain debris.
Pool filters can remove incredibly small particles, measured in microns. And, the smaller the number of microns, the smaller the particles your filter will catch.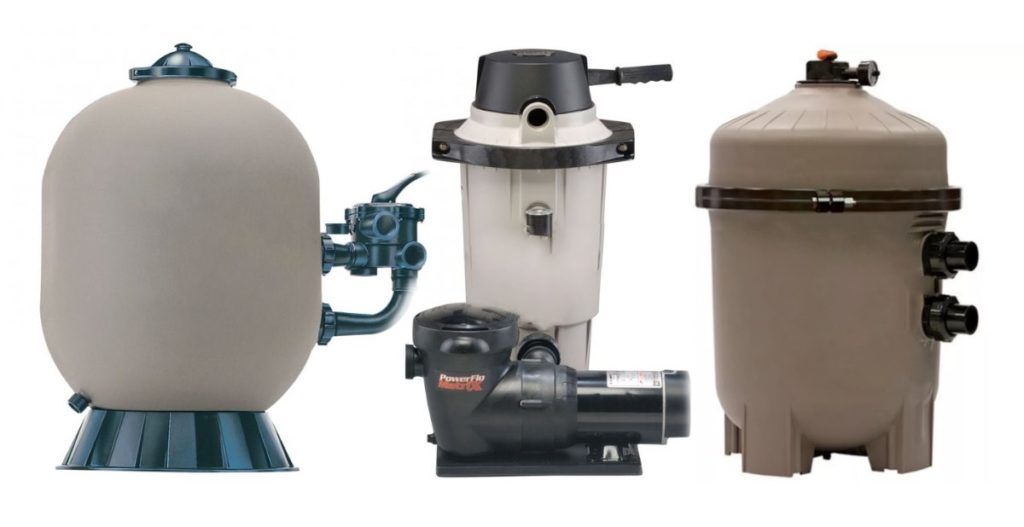 Sand Filters
This is the most affordable filtration option, ideal for backyard swimming pools on a budget. That said, it's also the least effective of the three filtration types, filtering particles to a size of 20 microns.
To make a sand filter more effective, substitutes and additives like silica sand and filter glass can be used.
Cartridge Filters
Cartridge filters cost a bit more than sand, but they're also more effective, filtering particles as small as 10 microns.
This type of filtration works well with other pool equipment, including low and variable-speed pumps, making it ideal for a small backyard setup. And, while cartridges do require deep cleaning, their maintenance is easy to perform when compared to other elements of pool upkeep.
D.E. Filters
This is the most effective, difficult to maintain, and expensive option, filtering minuscule particles, as small as 5 microns.
If you're interested in a D.E. filter, your best bet is to hire a company that specializes in pool maintenance. They'll help you properly add diatomaceous earth to your filter or skimmer, manage your pool's backwash system, and handle proper disposal.
Find Your Perfect Fit
When choosing between these filtration systems, you'll want to keep your pool's size in mind. Above-ground and in-ground pools often require different systems and upkeep, so which style you have will play a vital role in decision making.
Keep in mind, that your pool's filter will have to work alongside pumps and chemicals, so it's absolutely essential to select cohesive equipment that won't interfere with other elements of your cleaning system and setup.
Swim Safely With Effective Water Filtration
Now that you know a bit more about the different water filtration systems available, it's time to take a closer look at your pool. Are your backyard swimmers safe?
If not, don't wait to make a change! With rising temperatures and summer vacation right around the corner, now is the ideal time to step in and upgrade your system.
Do you need help maintaining your backyard oasis? Is it time to call in the pros?
Contact BPS Pools or call 281.890.3040 today. We have decades of experience serving Houston area homeowners just like you, and our family-owned and operated team guarantees the best service in town!