Experience The Healing Power
Innovative Custom Pools with Spas
Has it been a very long stressful day, and now you are coming home and want to unwind and relax?
A custom pool with a spa can provide the best experience with incredible healing power. It is no doubt that water has a therapeutic and restorative value. Sitting in a custom pool and spa and combining the hydrotherapy, water visuals, and soothing sounds leave the body and soul nurtured.
At Backyard Pool Specialists, we are what our name states, "backyard pool specialists." We can build a custom spa attached or unattached to your new custom pool or renovation project. From elegant and formal pools to hilltop lap pools, our custom spa designs are endless. Our spas create an inviting and environmentally friendly escape beyond the norm. Trust us, the benefits of hiring us are substantial.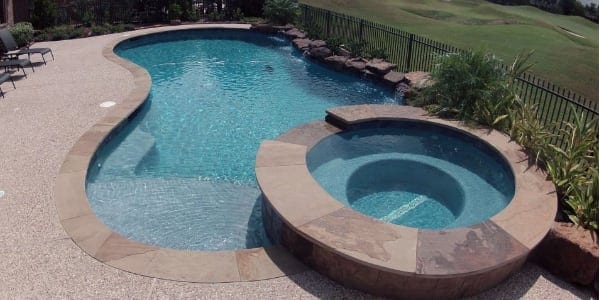 Get in touch with our custom pool and spa team, comprised of highly knowledgeable and experienced designers and technicians. We promise to provide you with the most innovative, functionally sound, and aesthetically pleasing custom spa.