Unparallelled Customized Designs
A patio cover is a shade structure built to provide protection from the sun and other outdoor elements. It can be built right off the back door, which will act as an extension of your indoor living space. Perhaps over the outdoor kitchen area. Not only will a patio cover offer you relief from the sun, but it can also add a stylish touch to the outdoor space.
A patio cover will allow you to create fabulous destination spots and a more comfortable environment for dining, lounging, and cooking in your outdoor kitchen as well as areas for relaxing by a fire pit or fireplace.
The size of patio covers depends on the area you wish to protect and shade. The roof can be constructed with lattice, which allows light to filter through or solid, which will block all light, rain, and snow. Roofs can also be built with other materials like wood or shingles, to match the home's architecture.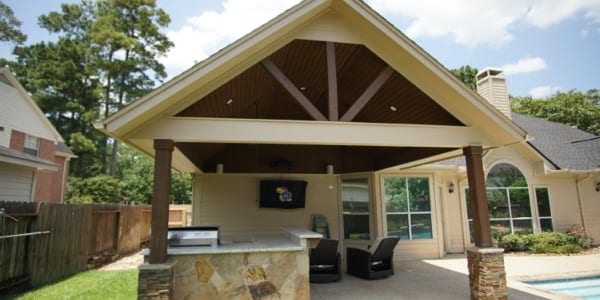 Our team at Backyard Pool Specialists values your business; therefore, we want to assure you that the patio cover we build for you will meet your personal needs, lifestyle, and budget. Our highly qualified and experienced designers and installers are committed to providing all of our customers the utmost in craftsmanship and service.
Contact us today to set up a free on-site measurement, estimate, and design consultation. We are confident our sales team will be able to provide you with the perfect patio cover that will add functionality, style, and beauty.