Bringing Outdoor Spaces To A Whole New Level
Outdoor kitchens add value to your home and lifestyle. You'll never miss out on guests or the poolside action when you have an outdoor kitchen. Prep, cook, serve and dine outdoors for the ultimate entertaining experience.
A custom outdoor kitchen by Backyard Pool Specialists will reflect your personal style and blend into the backyard landscape while functioning as an efficient, productive kitchen. Contemporary style is certainly a part of current trends; however designing a kitchen that suits your particular home's style and the needs of the family chef, are what's most important.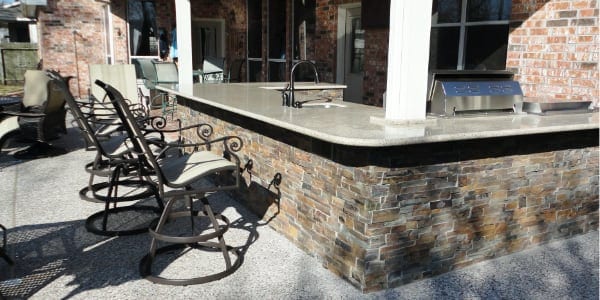 We offer top-of-the-line materials and appliances that are built to last, no matter the elements, or your budget. We can incorporate weather-tight cabinetry, pizza ovens, hybrid grills that switch easily between cooking with gas and real charcoal or wood fire, refrigerators and more.
With a beautiful design by Backyard Pool Specialists, it will be hard to decide which takes center stage, your pool or your outdoor kitchen.
Contact us to see what we can design and build for you.