From Traditional to Whimsical
Water features are one of the hottest design trends in current landscape and pool design. They add movement and tranquility to backyard ambiance as well as beauty.  A water feature is a delight for the senses, particularly sound.  There's no better sound than falling water to bring relaxation, calm and peace to your life.
From sleek and contemporary water features, to natural-looking stone waterfalls, we can design and build you the feature you desire.  A water feature can be added to any backyard or existing swimming pool at any time, not just at the time of new pool construction.  Backyard Pool Specialists has more than 35 years of experience transforming pools and outdoor spaces.  Consider adding a water feature when building or remodeling your swimming pool.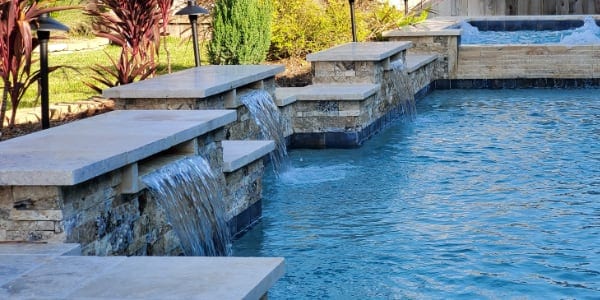 Ask Backyard Pool Specialists about our attractive water features – they come in all shape, sizes and designs.
Sheer Decent Waterfalls
Waterfalls are an elegant addition to any area of your pool or backyard. With today's technology, a variety of options are available, from simple to ornate, to an elaborate tropical waterfall.
Fountains
Relax to the soothing sound of trickling water. You can choose from floating fountains, spillovers, and much more!
Rock Waterfalls
Rock waterfalls create a natural look while adding the soothing sound of falling water to your poolscape.
Spa Spillover
Create the best of both worlds by adding a spa to your poolside. Then take the next step and create a spillover that creates a natural waterfall!
Decorative Water Accents
The sky's the limit when it comes to adding decorative accents to your pool. Have fun making your outdoor living area reflect your tastes and your lifestyle.