A backyard pool is a key part of the American dream. That might be why more than 10 million homes in the country have their own pool!
A little attention to tiles from the outset can save you a lot of renovation hassle down the line. Pool tile repair is also a great way to change the look of your pool. After all, a little variety is the spice of life.
If you're wondering about how to keep your pool in tip-top condition, we can help. Read this guide for everything you need to know.
Can You Change Tile in a Pool?
Absolutely! There's no need to keep a pool the same way forever. If you want to make changes for practical or aesthetic regions, you can choose from different pool tile patterns or a new layout.
We can help you choose any tiles you like, then do the job for you! We pride ourselves on leaving our customers satisfied. Just tell us what you need, and we'll do our best to bring your dreams to life.
What Materials are Needed for Pool Tile Repair?
The type of materials used will depend on the job. But the fundamental tools normally consist of:
Hammer and chisel
Trowel
Scrubbing brush
Grout removal tool
Duct tape
Sealant
But depending on the job, a wider range of tools and resources may be required.
As a professional company with wide-ranging expertise, we use a variety of tools and materials which are unavailable to the general public. That means we can get the job done with a whole never level of quality. For a big project like this, it's always best to call in the experts rather than trying to do things yourself.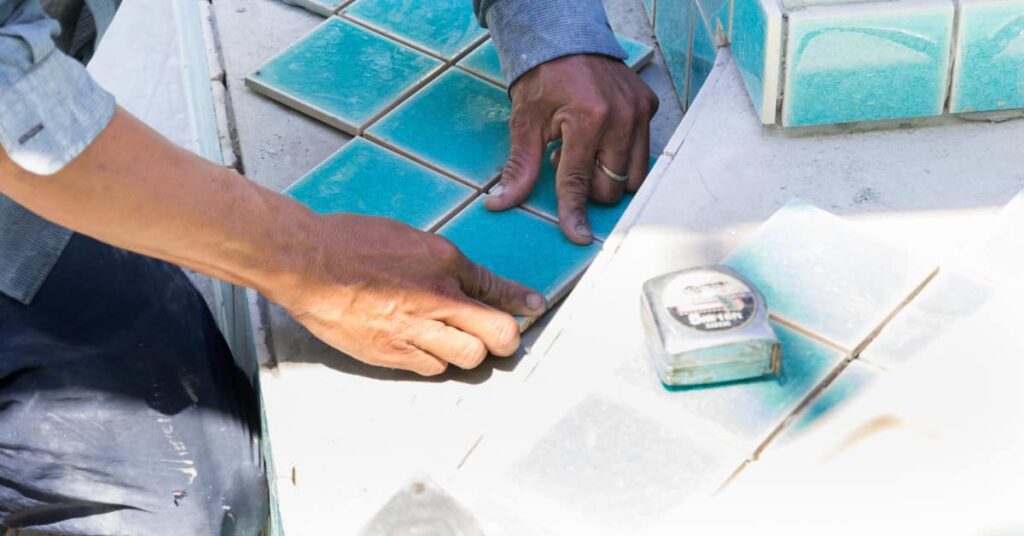 Preparing the Surface of Your Pool for Tile Replacement
Before making changes to your pool tiles, there are a few ways to prepare.
Lower the water level to observe the damaged area better
Collect the tools and materials you require
When we're on the way to replacing your pool tiles, there's no need to worry too much about preparation. We'll handle everything, from preparing the area to completing the replacements. Sit back and relax, safe knowing we've got it covered.
Can You Repair Pool Tile Underwater?
Many people think it's necessary to drain a pool to replace or repair the tiling. After all, you would be unlikely to try renovating a room of your house while underwater!
But expert pool repair people can replace tiling without needing to close your pool. Our underwater techniques can take the hassle out of your day and help the job run faster.
We use special waterproof sealants and other tools designed to work well under the water. You might be amazed at how efficiently we can make repairs even under the water. But for us, it's just a regular job!
Can You Replace Pool Tile Without Replastering?
It's not necessary to replaster to replace pool tiles. Especially if you're looking for an aesthetic change, This can help to reduce the cost and make the renovation process quicker.
As long as the plaster under the tiles is in good shape, there's no need to replace it. However, replacing tiles without replastering can leave quite a bit of debris in the pool, including grout and thinset. To fully clean up afterward, you may need to pressure wash the tiles.
That said, after a while, inground pools naturally need replastering. We can help with that too! We offer a full range of pool services, so we can do everything from replastering to adding new features around the pool edge, like a spa or waterfall.
How Much Does it Cost to Redo Tile in a Pool?
When you plan to retile your pool, the cost is likely at the forefront of your mind. You need to know the price in advance to make a good decision.
Pricing will depend on several factors, including the pool size and the type of tiles you're looking for. There may be added costs if you need your pool replastering or draining is required.
We do our best to be open about the costs so you can make the right decision for your needs. We'll give you a quote upfront with no hidden charges added on. Things can always change over the course of a job, but we'll do our best to keep you updated on the cost of the job.
But we understand everyone wants to keep the cost down as much as possible. That's why we offer a range of promotions to help you save.
Tips for Temporarily Repairing Cracked or Broken Pool Tiles
You'll want to make quick repairs when you notice cracked or broken tiles. After all, broken tiles can cause injuries or pollute the pool water. Luckily, there are a few things you can do to patch things up temporarily.
First, use a hammer and chisel to remove any cracked tile. Then, use waterproof sealant to cover the affected area. Alternatively, you can use a pool tile band to cover any pool tile damage.
Remember, any temporary measures you take won't last long. If you've noticed cracks or other issues, it's best to call in expert help as soon as possible. If you delay too long, you may face more significant issues further down the line.
When you call us, we'll get out to help you as soon as possible. So you won't need to wait too long for the best pool tile repair or other pool services! Feel free to call us before making any decisions, and we'll let you know whether it's worth making temporary repairs or not.
Pool Tile Repair and Quality Pool Refurbishing Services to Suit Your Needs
When you're unhappy with the quality or style of your pool tiles, there's no need to stick with what you've got. Pool tile repair might be easier than you think. With some creativity, you could come to enjoy the pool of your dreams right there in your background!
If you're looking for pool tile repair or to refurbish your pool, we can help! From simple retiling to extensive remodeling, we've got you covered. Contact BPS the Backyard Pool Specialists today to find out more about our services and to book an appointment.