Projections show that the global swimming pool market will reach $3.8 billion by 2030.
If you're looking to improve your backyard space, there are many ways to do it. One of the most popular options is installing a swimming pool. When looking for Tomball, TX, pool contractors, there are various factors you need to consider.
For a rundown of the most important things to look for and the services we offer, keep reading.
Considerations When Choosing a Custom Swimming Pool Builder
A new pool is a significant investment. While you may be excited about this new addition to your home, there are several things you need to think about first to ensure you get a pool that's right for you. Before settling on any inground swimming pool builders and designers in Tomball, TX, take the time to think about these factors.
Determine Services Available
Before going with a pool contractor, you want to ensure they offer everything you need. Many pool contractors offer various services, but they may be unable to provide certain things that others can.
After you've bought a pool, it's a good idea to set up a regular maintenance schedule. Going with a contractor that can install your pool and maintain it can be beneficial for this.
You also might want various other additions to your garden, such as fire features or an outdoor kitchen. Getting all of this done by different contractors can take more time and money, so it's best to find a single contractor like Backyard Pool Specialists that can do everything you need.
Assess Customer Satisfaction
Most businesses will give the impression that they offer the best products and services in the world, but these opinions are biased. The best way to determine the quality of a company's services is by looking at how happy its previous customers are.
People with both good and bad experiences will leave reviews, and looking at these will give you a good idea of what people think of a business. We have several testimonials available to view on our site so you can see what our customers think of us.
Think About Your Space
While you may have a dream pool in mind, there may be certain limitations based on the size and layout of your backyard. You need to have enough space for a pool, along with some extra space around the edge.
The land might also restrict you in your backyard. If it's too uneven or sloped, you may need some landscaping work before a pool can be installed.
Determine Your Budget
Another limitation will be your budget. It would be best to determine how much you want to spend on your pool early on. You can talk to our team, and we'll work to get you the pool you want while keeping things within your budget.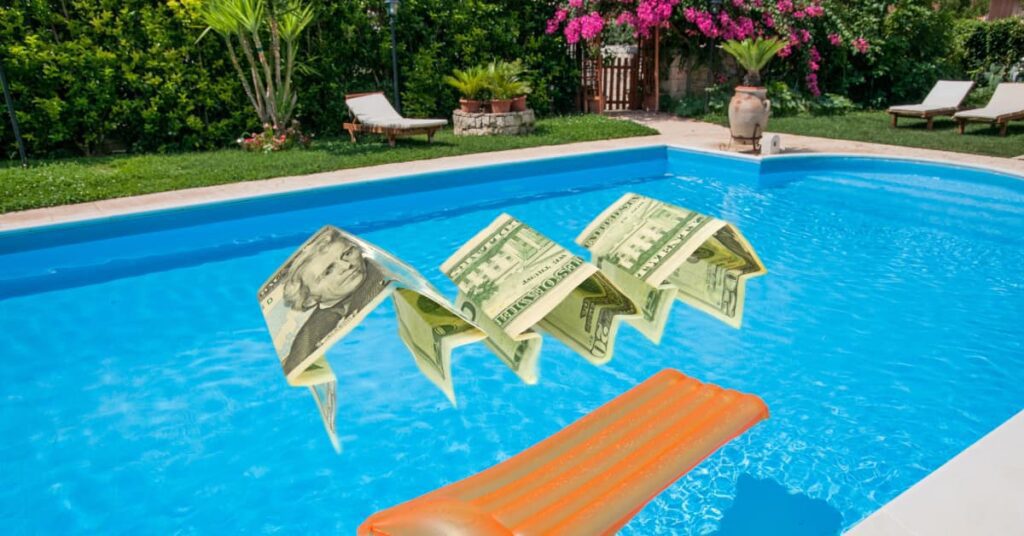 Take Your Time
A pool is an exciting concept but also a big decision. If you rush things, you might get your pool installed and then later change your mind about what you want.
Take some time to look at different inspiration options and consider how you'll use your pool. It might take a bit longer, but the results will be worth it.
The Services We Offer
Backyard Pool Specialists is a leading pool services company in Cypress, Texas. We provide a range of swimming pool and backyard services throughout various areas in Texas.
Pool Construction
We're among the best pool builders in Texas. We offer custom pool design so we can create the perfect pool for your home. Our capabilities don't stop at just building pools – we can also include a range of additional amenities to create a unique outdoor space.
We can build freeform or geometric pools, depending on what you want. We can also include additional features like waterfalls and fountains to create a more exciting design.
Pool Resurfacing and Remodeling
If you already have a pool, but it's a bit worse for wear, you might want it resurfaced. You can do this to give your pool a fresh look and go for a new design if you feel like a change. With our pool remodeling services, we can change the shape and design of your pool or even add new features.
Pool Maintenance
Regular swimming pool maintenance is crucial if you want it to be safe to use. There are various things you need to do, such as maintaining a suitable pH level, keeping filters clean, removing any algae, and keeping chemicals balanced.
It's possible to do some of this yourself, but it's often easier to set up a professional maintenance plan. We have three service plans to choose from:
Full weekly service
Every other week service
Weekly chemical-only service
Regular maintenance will ensure your pool is always ready for use.
Small Pool and Spa Installation
In a small garden, you might want to go for a small pool instead of a larger pool. Undoubtedly it will take up less space and give you the perfect place to relax at the end of the day. Small pools such as cocktail, plunge and spools are a hot trend. These small inground swimming pools can be built for aerobics and even with heat and jets like a hot tub.
Tomball, TX Pool Contractors
Look no further than BPS, the Backyard Pool Specialists for the best Tomball, TX pool contractors. The three owners have over 100 years of combined experience, so you know you're in good hands.
If you're looking for pool builders near me, we've got you covered. For more about our Tomball TX and surrounding area services, click here to contact BPS, the Backyard Pool Specialists, today.