Modern Pool & Spa Ideas To Consider For Sure
Over the past two years, demand for spas skyrocketed, and this year is no different. It was one of last year's major industry trends.
Homeowners upgrading their outdoor space also included a spa design. This isn't surprising as it's the perfect complement to a pool.
There are many modern pools with a spa. But if you're considering installing one, how do you decide on the best design? It depends on your backyard space and your home's architectural design.
How you plan to use your pool and spa will also play a significant part. Read on for a few modern pool & spa ideas you may want to consider.
Reasons to Choose a Pool with a Spa
It may be hard to consider a spa or hot tub during this time of year. You may focus on adding other features to help you cool down while in your pool. But don't count out adding a spa.
There are benefits you can enjoy in warm or cool weather. Here are a few:
Relieve pain and muscle tension by soaking in hot water at the end of a long day
Entertain either in or around your spa
Relax in cool water in the summer
Relax in hot water during the winter
Entertain around your spa all-year-round
A pool can add anywhere from $12,000 to over $95,000 to the value of your home. A spa can too. It's even more attractive to potential buyers, along with an incredible exterior landscape. Imagine what the combination of the two can do!
Modern Pool & Spa ideas
If you already have a pool, you may be wondering how you can incorporate a spa. The great news is, that most pool designs can accommodate one.
A modern pool design might be:
River-shaped
Infinity
Have a tanning ledge
Have a beach or zero entry
Regardless of which you have, you can add a unique spa design.
Pool with Spa
This is probably one of the easiest ways to add a spa. It involves attaching a spa next to or outside your pool. This allows you to build a spa in any shape or size, depending on your space.
Integrated Spa
In this type e of pool design, the spa is inside the pool. It's usually seamlessly built to look like a part of the pool. A wall separates the spa from the rest of the pool. It's easy to picture a modern rectangular pool with a spa.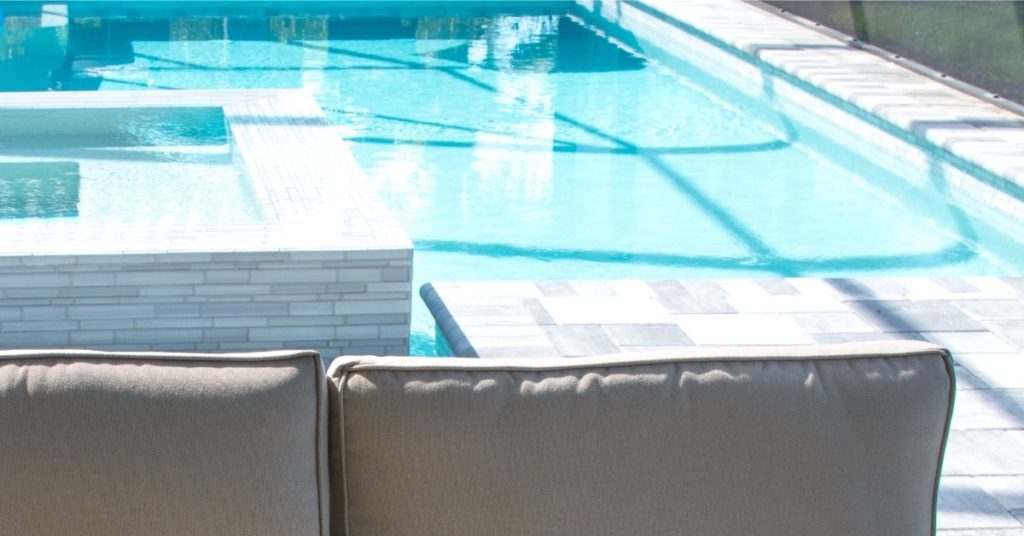 Detached Spa
This involves creating a separate space for your spa a short distance away from your pool. Once you have the space, this gives you the freedom to build a more extensive spa. It's the perfect layout if you want to separate the two.
Spa with a Raised Wall
The walls of this type of spa are usually raised. Although it fits within the pool the walls around the spa are high enough to create a more private setting.
Spillover Spa
The great thing about a raised wall spa is that you can also add a spillover feature. This creates a mini waterfall that cascades into the central area of the pool. You can get creative with the finishes you use to enhance this feature.
Modern Pool & Spa Design Ideas that Work
Temperatures nationwide are getting warmer every year. Texas feels the effects of this even more during the summer months. Soon homes with a pool may become the norm in the state.
Chances are you'll be using yours a lot more than before. Why not add an upgrade by incorporating a spa? Modern pool and spa ideas make this easy.
To get yours right, use BPS, the Backyard Pool Specialists. You'll not find many other pool company owners with over 100 years of combined experience.
We've made our customers' dreams come to life. We can for you too! Contact us to get started!