Custom Pool Waterfall Ideas You Will Love
Imagine summer days spent poolside sipping your beverage of choice and getting a good ol' dose of vitamin D. Or a relaxing dip in heated waters on a cool spring evening. There's only one thing left to complete this picture of sensory bliss, and that's a waterfall.
Pool waterfalls aren't just a visual delight. They enhance the ambiance of your backyard with their fresh look their calming sounds. And depending on where you place them, they can add a tactile hydromassage element that will take your swim session up a notch.
The following inspiring water features should get your own custom pool waterfall ideas flowing.
Grottos
Rock water features go well with free-form pools. Consider that most famous of grottos at Hugh Hefner's Playboy mansion.
Stacked stone slabs or a collection of real or artificial rocks produce an organic look and you can have water cascading from different heights for more points of interest. Wrap a slide around the rockery and kids and adults alike can splash down amidst the waterfall
A little cave to swim through between the rocks and the flowing water is a fabulous experience for adults and children alike.
Fountains
Pool fountains create drama or playful fun. You can choose to go with floating fountains or spillover fountains. The former make great focal points at the center of a pool and you can use a tasteful statue to further a theme. A series of small bubblers next to semi-submerged deck chairs can look elegant too.
Pencil jets
Also known as deck jets or laminars, these eye-catching spouts arc into pools and can be as elaborate or minimalist as you like. Place them all around a pool for a fountain-like effect or have them emerge from decks or behind feature walls. LED lights can add to the wow factor at night.
Rain Curtains, Sheer Descents and Water Walls
Water walls with decorative tiles add character to your pool. Have water pour forth from sconces in various shapes including urns or simple scuppers with flow styles that range from chute to sheet.
Rain Curtains that drop from overhanging roofs or pergolas can break up large areas with their aesthetically pleasing and gentle raindrop waterfalls.
You should also look into getting a sheer descent feature. They give you that smooth as glass finish and their openings can extend across a wide space.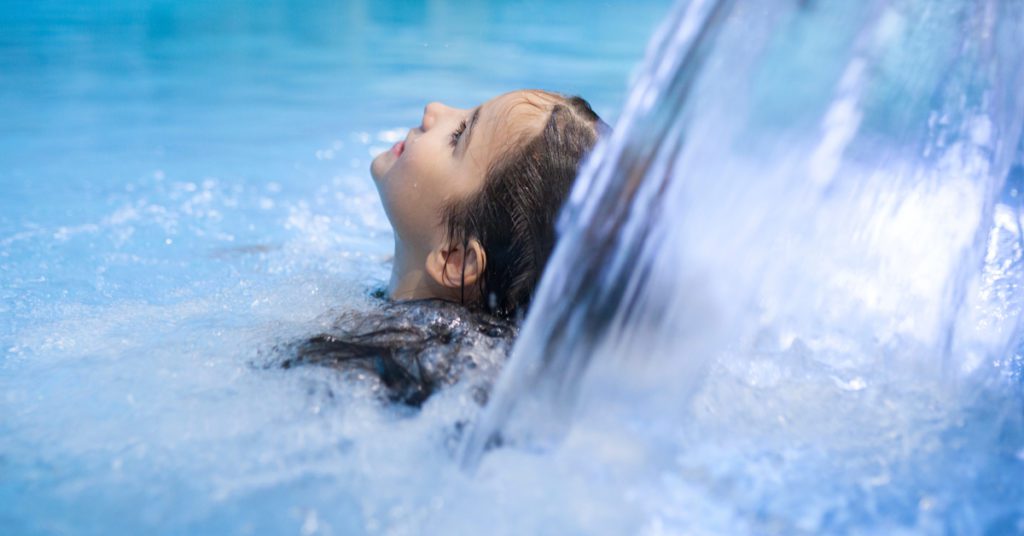 Elevate Your Texas Home's Exterior
There's so much creative potential and room for improvement in your backyard. Waterfalls and spas are welcome finishing touches that give homes an air of glamor and ensure they are true havens.
Turn fantasy into reality with Backyard Pool Specialists. We've been enhancing homeowners' lifestyles for decades in Houston and beyond. Get in touch with BPS, The Backyard Pool Specialists for your Free consultation and quote today.
We look forward to discussing custom pool waterfall ideas for your backyard as well as any backyard and pool-related questions you may have.