Outdoor kitchens inspire over 2.1 million Google searches annually, and many of those searches include custom-covered outdoor kitchen structures.
Not all homes have an outdoor kitchen, but those that do are undoubtedly more desirable. It's an added luxury that not everyone is lucky enough to have. If you're thinking about investing in one, there are various things you should know about outdoor kitchens and custom-covered outdoor kitchen structures.
To find out more, keep reading.
What Is an Outdoor Kitchen?
An outdoor kitchen is a converted area in your backyard that you can use for cooking/preparing food and entertaining guests.
You could consider it an expansion of your indoor living space, making it an excellent centerpiece for your outdoor area.
Benefits of an Outdoor Kitchen
There are a lot of options when it comes to outdoor kitchens. Based on your design choices, there are several potential benefits to having one.
Expand Living Area
Your living area instantly becomes larger when you add an outdoor kitchen space. On top of extending it, you now have an outdoors section of your home, so you can get some fresh air more comfortably.
If you're wondering, "can an outdoor kitchen be covered?" the answer is yes. This will make it perfect for use all year round. You can also add other accessories, such as lighting and speakers, to improve the area.
Great for Entertaining
In most homes, you'd likely entertain guests in the living room. As you'll be cooking in the kitchen, it separates you from your guests, which isn't ideal. An outdoor kitchen is open, providing a lot more space to relax with your guests while keeping an eye on the food.
A well-kept garden can also be a much nicer space for guests to spend their time – especially on a nice day. The whole experience will be more enjoyable for everyone. It's also generally easier to clean up, and you don't have to worry as much about spilled food or drinks.
It's worth noting that you can't predict the weather, so being outside may not always be ideal. However, having a covered outdoor kitchen area means that you and your guests don't have to worry about a rain shower while you're outside.
Makes Cooking Better
A lot of food tastes better when cooked on a grill. On top of that, it can be healthier, too. Fat will drip off of meat, leaving you with a leaner meal.
When cooking inside, you might smell food filling your house, which you may not want. When you're outside, however, you won't have to worry about the smell at all.
Increase Home Value
There are various features that potential buyers look for, and an outdoor kitchen can be a great addition. It's something that many homes don't have, so if yours does, there will be a lot more demand for it.
It's unlikely it will increase the value of your home by the same amount it costs to install, but it will certainly make selling your home much easier if you decide to do so.
Save on Utility Bills
During the summer, you might spend a lot on air conditioning to keep your home cool. Cooking in the kitchen can add quite a bit of heat, meaning you'll use more energy, keeping your house at a comfortable temperature. Cooking outdoors will reduce the heat generated in your home, helping keep the cost of our energy bills down.
Custom Covered Outdoor Kitchen Structures
As we discussed, the great benefits of having an outdoor kitchen increase when it has a custom cover to block the sun, rain, wind and more. Typically, these custom-covered outdoor kitchen structures are called patio covers.
These custom-covered outdoor kitchen structures can be in the form of a pergola, pavilion or gazebo. Each offers something different. For complete coverage, a pavilion style may be the best option. This is because pergolas generally have open slats on the roof. Pergolas are a great decorative cover as vines, plants, and flowers can grow around the columns and roofing. Gazebos can have a custom-covered roof but are generally octagon in shape and may not fit the full kitchen amenities.
As each custom-covered outdoor kitchen structure style differs, so are the materials to build them. With so many options, we would like you to contact us, BPS, the Backyard Pool Specialists, so we can discuss what is best for you in style, design and functionality.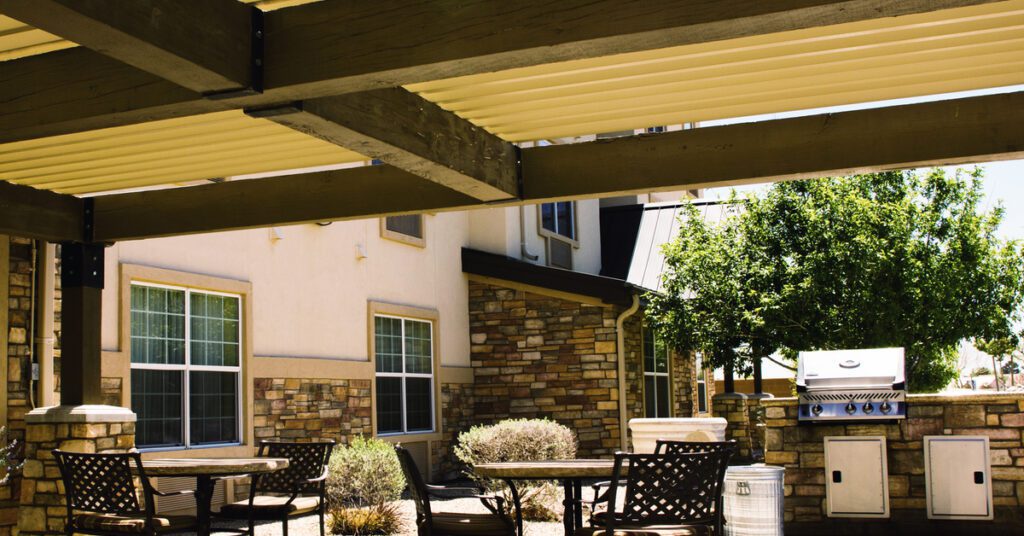 What We Offer
At BPS the Backyard Pool Specialists, we offer a wide range of services to improve your outdoor space. We can design and install an outdoor kitchen and custom-covered outdoor kitchen structure perfect for your home in terms of style and function.
Our team has years of experience, so we know how to build both that match your home and your tastes. We use top-quality materials and appliances to ensure your outdoor kitchen and its cover stands the test of time.
We can make it happen if you want a pizza oven, weather-tight cabinetry, a refrigerator, a hybrid grill, or anything else. We also offer maintenance services, so if you have any issues down the line, we've got you covered.
Things to Consider for Custom Outdoor Kitchen Structures
It would be best to consider various things before getting your outdoor kitchen and kitchen cover. These are based both on what you want to have and what might be your limits.
Budget
You should determine a budget before getting started. As your design develops, you can see how much the different elements are costing so that you can make the right decisions. This will prevent you from overspending.
Layout
An outdoor kitchen layout can vary, but you first want to look at the space you have to work with. If you don't have much space, you'll need to prioritize the elements you want the most. With a larger area, you'll be able to include additional features such as an island, a larger grill, or more storage space.
Once the space is determined, the custom-covered outdoor kitchen structure can be created.
Design Options
It's not uncommon for people to choose an outdoor kitchen design that matches their indoor kitchen. Many people also design it as an extension of their living space.
There are plenty of options, which come down to personal preference. Look at your home and decide what you think would fit best for the decor and architectural style of the kitchen and the custom cover.
Note that you should also consider the materials used as specific options may not be as suitable for areas with extreme temperatures, for example. For many people, the best kitchen structures are durable, long-lasting, and easy to maintain.
Bar
A covered outdoor kitchen and bar is something that many people want, so if it's viable for you, this can be a great addition to your home. It's a perfect design choice if entertaining guests is a priority, so if you have the space to build an outdoor bar, you should consider it.
Other Considerations
There are plenty of other things to think about, such as:
Lighting
Seating
Appliances
Storage
Make sure you've decided what you want before any work begins. This will prevent you from having to make changes down the line that will result in additional costs.
Your Outdoor Kitchen
Once you've thought about what you want, you can get started with your outdoor kitchen design. The team at Backward Pool Specialists are professionals in designing and installing custom outdoor kitchen structures.
To find out more about what we can offer, click here to contact BPS, the Backyard Pool Specialists, today.