Patio Covers Katy TX
During the hot summer months in Katy, TX, the ultimate relief is sunning yourself by the poolside and then jumping into the pool to cool off. However, for much of the year, the sun is too powerful to get the most out of your yard — or it's too cold.
With patio covers, Katy, TX residents can use their outdoor space all year round. Whether you've started working from home, or the family just needs an extra room — a pergola or gazebo can provide a whole new space without going to the trouble of extending your property.
Choose a Pergola With a Solid Roof for the Ultimate Outdoor Experience
The poshest pergolas are ones that have fully functional roofing structures. Some come with a roof already installed, but you can also get a roof added to your pergola. A roof lets you be more creative and stylish when it comes to design, and it gives the patio cover all the functionality of a regular indoor room. You can include beautiful lighting, pretty cushions and even work outside without the sun's glare.
Pergolas With Elaborate Curtains
Instead of opting for a full roof, you can use heavy linen curtains to block out excessive heat and light. Just like a stunning resort, you can add drapes to any pergola structure for a luxurious outdoor experience. For real privacy, you can draw the curtains and recline outside in style.
Why Not Try a Gazebo Patio Cover Katy TX?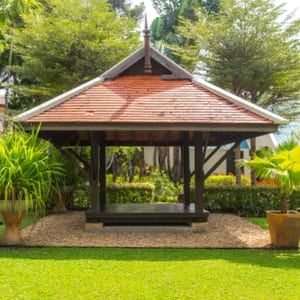 Instead of a traditional pergola, you could go for a more elaborate patio cover like a gazebo or pavilion. For the poshest, trendiest yard, you can match the design of this mini-structure to your property. They usually come with a ready-made roof, so you and your loved ones can enjoy the outdoors come rain or shine.
A traditional pergola is covered only by slats, so they might be a better option for people who want to soak in the sun.
Retractable Patio Covers Katy TX
For the best of both worlds, opt for a patio cover with a retractable roof. A high-tech pergola with an electric roof lets you customize exactly how you use it. You can have it covered in the full sun, winter or cool evenings and open during pleasant warm days. Even opt for half and half to let some sun and air in but block out the harshest sunbeams.
With a retractable patio cover, you can host parties where the ambiance truly shifts as the night progresses. Additionally, include heating in your pergola with a roof. That way, the family can swim all year round and then have somewhere warm and cozy to dry off and get changed. It'll do wonders for everyone's health!
Find Elegant Patio Covers Katy TX
Texans know what they're doing when it comes to style. Get a patio cover that matches your home and stunning pool from BPS Pools (Backyard Pool Specialists). Call us today at 281-890-3040 or send a message online to get started designing the backyard you've always dreamed of.