Add Pizzazz To Your Outdoor Living Area
Is your backyard boring, basic, or plain old outdated? If so, you might be missing out on its full potential!
Having an outdoor living area can be a huge advantage, adding square footage and value to your home. It also gives you a private oasis in nature to enjoy with family and friends. But, only if it's an area that people feel comfortable spending time in.
If it's time for an upgrade, you're in the right place. Keep reading for 5 hot ideas to make the most of your outdoor space, with design inspiration for all budgets, backyard sizes, and personal styles.
1. Cover Your Patio
Adding shade to your backyard doesn't just make it a more inviting place to spend time during the summer. It also adds value to your home and potentially reduces your electric bills, provided your shade structure keeps the sun off of your house.
If you don't have years to wait for large shade trees to grow, consider adding a pergola or fabric shade structure. These temporary structures offer additional flexibility for your living area ideas, as they can be moved around the yard as needed.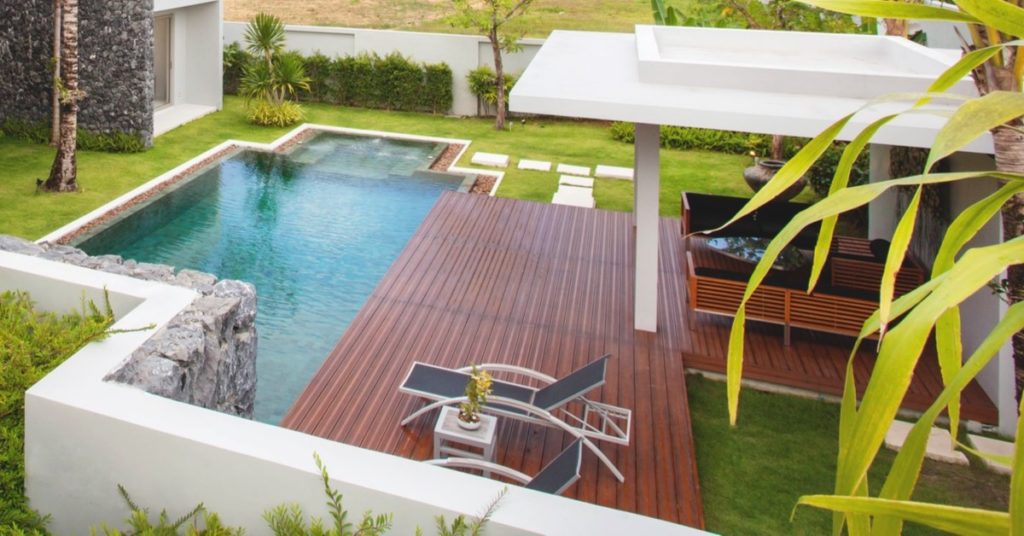 2. Build a Fire Feature
Nothing draws guests in like a crackling fire. This residential design idea has been increasing in popularity steadily, and the trend doesn't seem to be slowing down!
For a relaxed look, opt for a rustic firepit that people can pull chairs up to. Or, go for a modern aesthetic with a sleek and contemporary fire feature built into your patio or set next to your pool. Tabletop options are also available, adding excitement to your outdoor dining area.
3. Upgrade Your Pool or Spa
Does your yard already have a pool or spa, but nobody seems to use it? If so, it might be time to give your existing outdoor design a facelift.
Consider adding new features like a spa or waterfall, upgrading your landscape design for a less barren effect, or even just updating your tiles and cement. You'll be surprised by how dramatic the effects of a few minor pool upgrades can truly be!
4. Outdoor Entertainment
Do you love entertaining? If so, an outdoor theater in your own backyard could be the perfect project to add pizzazz and create a functional new space.
Start with seating, a projector screen, and outdoor speakers – then add whatever details you like to make the viewing area comfortable for guests. This is a trendy and affordable option that's guaranteed to get lots of attention without breaking the bank, and you can always add new outdoor decorations later on!
5. Add an Outdoor Kitchen
Home decorating is an essential part of creating your perfect outdoor living area. But, functionality is equally important!
Adding an outdoor kitchen doesn't just give you a place to gather with guests and prepare meals. It also sets the stage for perfect events held outside. And, all that cooking won't heat your house up.
Outdoor kitchens can help you host more people comfortably, and combined with a backyard pool, you've got the perfect setup for summertime fun.
Upgrade Your Outdoor Living Area
Did one of these design ideas catch your eye? If so, the outdoor living area of your dreams could be well within reach!
Contact BPS Pools, The Backyard Pool Specialists, or call (281) 890-3040 for a free, no-obligation quote. Our team of experts has decades of experience working with homeowners just like you, dressing up boring backyards, building pools, and creating fantastic outdoor liveable areas.
What are you waiting for? Get in touch today!