Backyard Staycation Ideas
With the current situation around the world, families are spending more time at home than ever. Odds are that it'll stay that way for some time, but you don't need to let that get you down. All it takes is a bit of creativity and a home makeover to get a stay-at-home resort you'll hardly want to leave. That's why we've put together a set of backyard staycation ideas to help you have a great time from the comfort of your home.
A Home Waterslide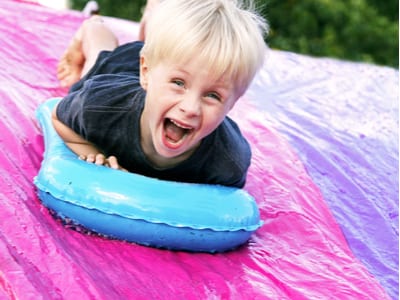 A backyard pool opens up countless possibilities for your home resort. Kids and adults alike love the thrill of flying down a slide and splashing down in a pool, and it's easy to replicate this. Inflatable waterslides and homemade slides that consist of a tarp are a mainstay of summer fun. When you combine a pool, a waterslide, and kids that are full of energy, you get a great time for all parties.
Pool Games for the Family
There are dozens of pool games that the whole family can enjoy together. While some are suitable for stronger swimmers, there are choices that can accommodate everyone.
Coin Diving
Coin diving will keep everyone entertained with nothing but a pool and a roll of quarters. The way that the game works is that you drop coins and let them sink to the bottom and the players race to pick up the most coins. While you can declare a winner based on who collects the most coins and then start over, you can also make the coins their own reward. That's one way to collect an allowance.
Ball Races
Diving to the bottom of a pool may be too difficult for some, but ball races and similar games are perfectly inclusive. Everyone takes a beach ball or other inflatable pool toy, like a pool noodle, and races from one end of the pool to the other. You can change it up by replacing one kind of toy with another.
Balloon Hot Potato
Bouncing a balloon back and forth while working together to keep it from hitting the ground is always good, cooperative fun. But playing this game indoors often ends up with something being broken. Taking this game to the pool makes it more fun by requiring kids to rely on their swimming skills, and puts a comfortable distance between all those fragile items indoors.
Unwind in a Sauna
Besides traditional pools, you can enjoy a sauna, one of the heights of luxury from home. Expert pool builders can install an attached sauna to your existing pool, or provide standalone options. Games make for great backyard staycation ideas, but now and then you just want to relax. When you're in the mood to unwind, there's no better choice than your own private spa.
Call the Backyard Pool Specialists
Here at Backyard Pool Specialists, we're the experts when it comes to building and maintaining home pools. If you need any pool services, remodeling, or if you'd like a new pool installed, give us a call or fill out our secure online form to get in touch.