Types of Pool Coping and How to Decide Which is Best for Your Pool
When building a new custom pool, the homeowner needs to learn about the pool coping and the different available choices to surround the edge of their pool.
On the other hand, if you are renovating an existing pool because it has lost its original luster, you must know that as pool technologies advance, the new types of pool coping today are much different from the past options.
In this article, we are going to discuss the different types of pool coping which can help you decide which type will bring your pool to the next level. But first, let us explain what pool coping is.
What Is Pool Coping?
Pool coping is the material that separates the pool from the solid ground of the deck or landscape which surrounds it. This ledge is a transition that seals off and protects the shell of the pool and the external surfaces from potential water damage. By choosing a non-slip coping type, will prevent bathers from slipping.
Not only does it serve an essential purpose for your pool, but it is also aesthetically appealing because it adds another dimension of beauty to the poolscape. Pool coping can match the surrounding deck in color and style, or you can choose a different look to bring in impressive contrast
Below we will talk about the four main types of inground pool coping materials; concrete, paver, natural stone (travertine), and brick.
Concrete Pool Coping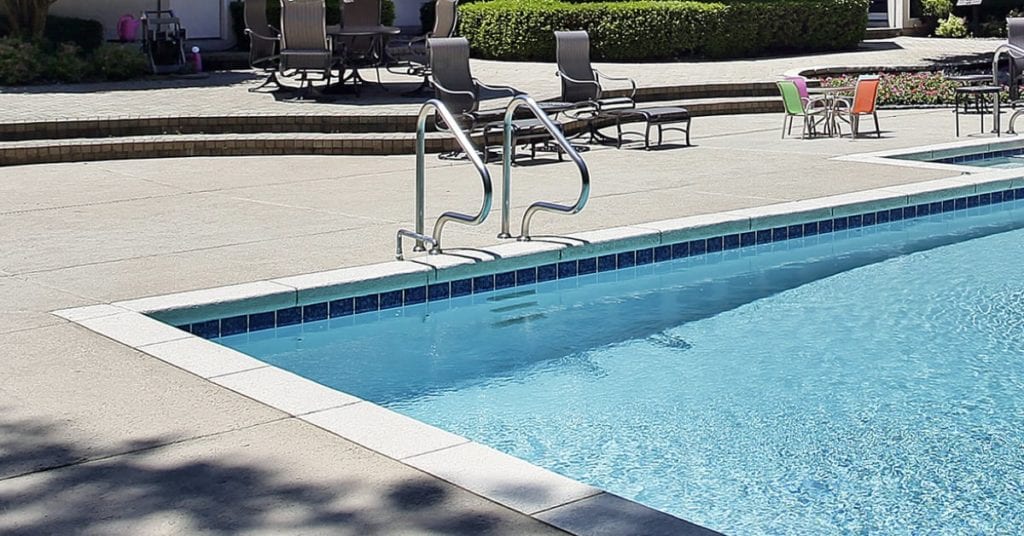 Concrete pool coping, often referred to as cantilevered concrete because it cantilevers out over the edge of the pool, can be poured or precast. Both concrete types are typically less expensive than pavers, natural stone, and brick and are the best choice for homeowners on a budget.

Poured concrete will provide a seamless finish that is easy to match to any pool deck or landscape. This coping is part of the concrete deck that will go right to the pool's edge. There will be no break in the design. It's ideal for smaller pools because it can make the entire area appear bigger since it's one cohesive concrete slab.

Precast pool coping concrete tends to cost significantly less than the poured concrete option. There are also a wide variety of colors, patterns, and textures to choose from. The edging is typically square or rectangular with straight edges and can be cast in any width and length.
Concrete is a versatile paver that is durable and resistant to chlorine, salt in saltwater pools, and because of its porous nature, it is slip-resistant.
Paver Pool Coping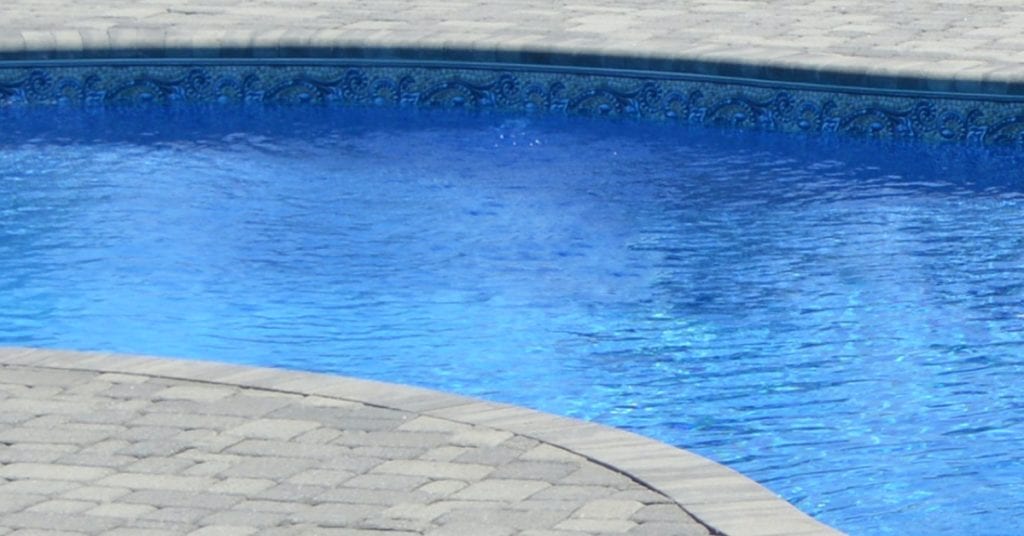 While inground pool coping pavers can be more expensive than concrete, they are durable and easier to replace.
Pavers pool coping come in a wide variety of styles, from rounded edges to square edges. The most common is the bull-nose coping, which has a rounded edge.
Paver coping can be matched to tie in beautifully with a home's style and decor from beautiful gray, brown, red tones and more.
Natural Stone Pool Coping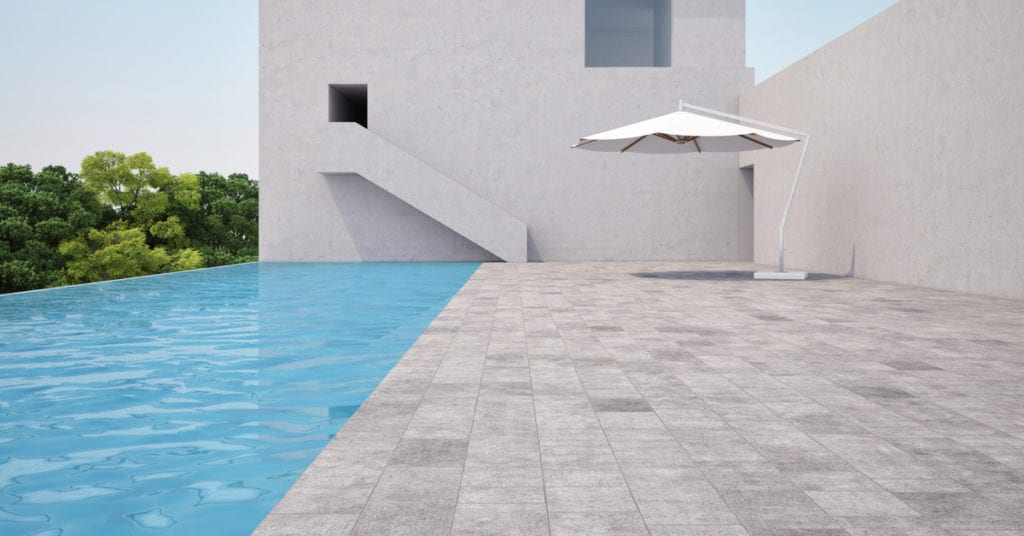 While cement and paver coping are man-made, natural stone is created naturally. This type of coping is the most costly.
Natural stone has many advantages and benefits. It is harder and is more aesthetically appealing than concrete. It will also last longer in areas where temperatures fluctuate from hot to cold. A great benefit is its naturally porous texture which makes it slip-resistant and safer for swimmers.
These natural stones come in a variety of beautiful subtle colors which will enable you to personalize your pools design and its surroundings in a perfect way.
Choose a natural stone like travertine and enjoy the colder touch of the stone in the hot sun. It's also slip-resistant so you can feel confident it's going to be safe for your family and guests.
Brick Pool Coping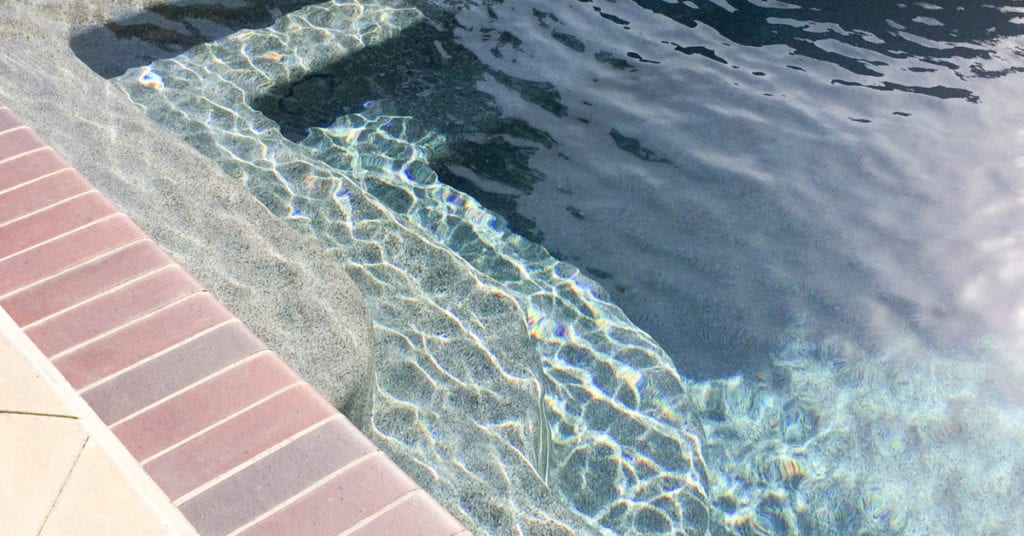 For traditional homes with brick, choosing brick pool coping is ideal.
Typically brick pool coping is red or natural earth tone in color and the edges are straight and smooth, unlike paver coping where the edges can be curved. However, brick can be curved as well but not as common.
Brick is both durable and versatile and are not affected by chlorine, heat, and the sun.
Brick is in the mid-price range between concrete and natural stone pavers.
Get the Right Types of Pool Coping for Your Home Today
Now that you know a few important facts about concrete, paver, natural stone and brick pavers let us help you decide which is best for you and your poolscape.
Contact us BPS Pools, The Backyard Pool Specialists of Texas today. We would love to hear from you and help you to get started.
We are located in Cypress Texas and have been proudly serving the areas of Houston, Conroe, Montgomery, Cypress, The Woodlands, Spring, Katy, Magnolia, Tomball, and Barker Cypress since 1978.