Whether you're considering new construction or upgrading your already built backyard oasis, keeping your pool design relevant and on-trend is essential. Otherwise, you could wind up with a significant investment that looks and feels outdated before its time.
Not sure what's hot and what's not? Seeking inspiration to begin transforming your backyard?
If so, you've come to the right place. This article will walk you through nine of the most exciting 2023 pool design trends, so keep scrolling for all the latest and greatest!
2023 Pool Design Trends
1. Take a Break From Traditional Pool Colors
Like the ocean, your pool's water looks blue because it absorbs most other colors, like red, orange, and yellow. But in addition to this, to achieve beautiful blue water, pool builders make the pool's inner structure using a finish of either blue, white or gray. In addition, blue tile is used to complement this.
Some of today's hottest designs depart from this standard blue watercolor, using other shades to make the pool color pop. Instead, think about statement shades like green, where the pool's finish needs to be green, brown or tan. Or how about black for a less natural but more cutting-edge look and feel?
2. Modern Water Features
Spillovers and small waterfalls are still the gold standards for pool construction. But, water features are becoming more modern all the time.
If you're hoping to make a statement, opt for one of the year's trendy pool designs that incorporates a hidden grotto surrounded by flowing water, a series of small cascades winding through natural stone and vegetation, or a multi-tier spillover with a moat.
3. Infinity Everything
Infinity pools are hardly a new trend. In fact, these vanishing edge additions to typical backyard pools have been popular since the 1950s, and the design origin could date back centuries.
That said, 2023 is taking this trend in a totally new direction, using spillovers everywhere. Multi-tier pools are all the rage, and there's no better way to connect one level to the next.
Infinity ledges are also being incorporated with swim-up bars and spas.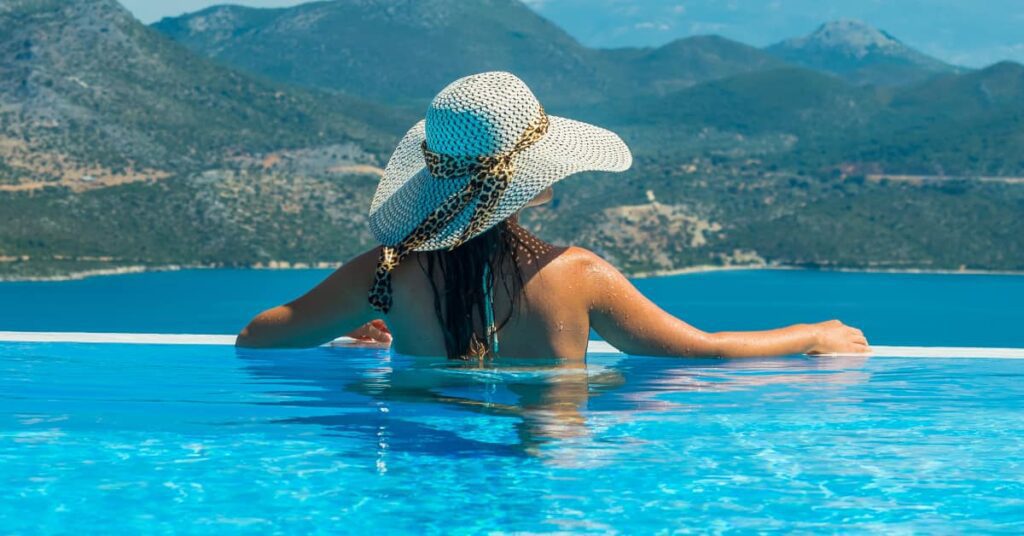 4. Make the Most of a Small Space With Swim Jets
If you think you need a big backyard to build a pool, think again. In 2023 pools are being seen in new shapes and sizes, with options to fit every budget and backyard.
If you're short on space, installing swim jets will make it easy to get your laps in, even without ample room for full-sized lanes. That way, you can get your exercise in without ever leaving home!
Not swimming laps today? Not a problem. Just turn the jets off to use your pool for recreation rather than fitness.
5. Global Destination Inspiration
Many of 2023's hot pool design trends borrow inspiration from global destinations like Bali, Tuscany, and Las Vegas.
Whether you're looking to recreate a tropical hideaway, a sophisticated summer retreat, or a lush five-star resort right in your own backyard, you'll find it easy with these creative concepts.
Imagine your dream destination and all its details to pull the look off. This should include materials like stone, tile, and glass, color schemes, landscaping, and more. If you aren't sure which dream destination best suits your yard, check out this gallery for international design inspiration.
6. Soak up Sun With Your Very Own Tanning Ledge
This is one of the most exciting pool design options, taking the shallow end of your backyard oasis to a new level.
Sometimes referred to as a Baja shelf, this design element is a shallow ledge, just a few inches deep in most cases, where you can lay around and soak up the sun. Tanning ledges are a great place to sit submerged furniture, too.
Not sure that you'll use this space? Consider this – it's the perfect place to play with family members and pets that aren't ready for total immersion. And, it's a calming spot to sit and read a book or sip a cocktail without committing to a whole swim.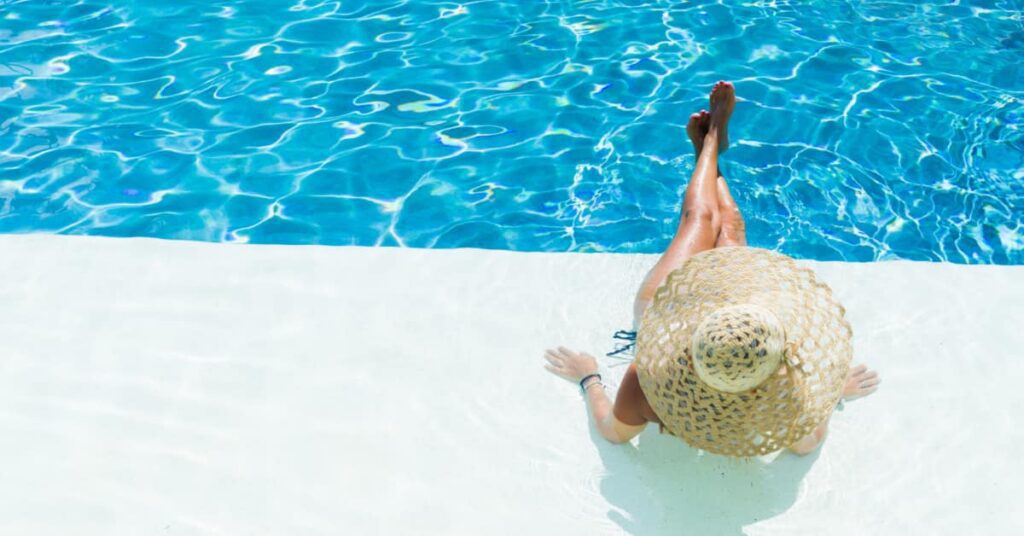 7. Skip the Chlorine and Opt For Saltwater Instead
Saltwater has been among the top trends in outdoor pools for years. And that doesn't look likely to change anytime soon!
Saltwater might seem more expensive at first, but it will absolutely pay off over time, as you won't be required to buy nearly as many costly chemicals. It's also gentler on sensitive skin and doesn't require you to store dangerous substances like chlorine.
Saltwater pools might also extend the life of your swimwear, keep your hair color from being stripped, and more.
8. Pool Lighting Is The Way To Go
Transforming the ambiance of swimming pools by illuminating them at night is one of the 2023 pool design trends rising in popularity.
The pool lighting options of today go far beyond the standard submerged pool lights of yesterday. Nowadays, LEDs are used, which are brighter, energy-efficient and offer color-changing options.
But, beyond the pool lights within the pool water. Lighting around the pool is changing as it is becoming integral to enjoying outdoor living. We list a few ideas here.
Create an illuminated border outside the pool by adding lights to the surrounding deck or patio
Give the surrounding outdoor features the attention they deserve by adding uplighting to illuminate the tree branches, shrubs and plants and downlighting to lighten up a wider area.
Light up the adjacent structures such as patio covers, pool houses and even umbrellas.
Light up your garden focus points like statues, fountains and others.
Make your elements with lights reflect in the pool's water. How about twinkling overhead lights making the pool's water twinkle at night?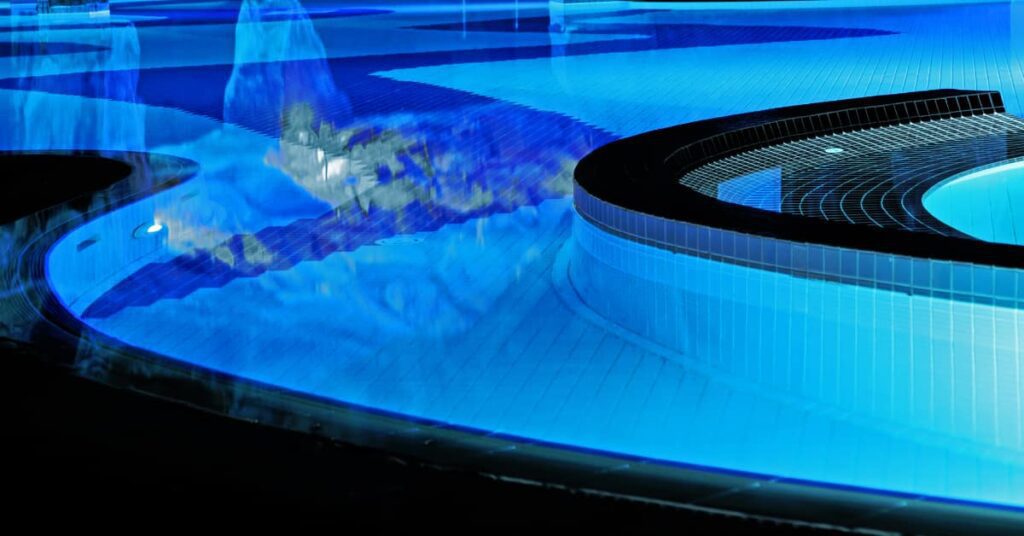 9. Incorporate a Few Classics
While it might be tempting to blend a handful of these hot ideas together and go from there, it's also essential to consider factors like usability and your home's resale value.
Combine one or two trends with classic backyard staples for the best look and potential return on investment. And, if you're planning to use the space for entertaining, be sure to save space in your budget for features like an outdoor kitchen or patio cover. These features add usable square footage to your home and make your yard more inviting to guests.
Bring These 2023 Pool Design Trends to Life!
Now that you've seen some of the hottest 2023 pool design trends out there, it's time to start turning your dreams into realities. But, you'll have to hire a highly experienced contractor for the best results.
Otherwise, your trendy pool design will likely miss the mark.
Contact BPS Pools or call (281) 890-3040 for a free, no-obligation quote. Our family-owned business has been serving Houston and the surrounding area homeowners like you since 1978. We're standing by and happy to help you start transforming your yard today!