2022 Trends in Pool Design That Are Here To Stay
During the past two years, since the start of the COVID-19 pandemic, the swimming pool industry, all across the county, has skyrocketed. People's lives changed by leaps and bounds. Time spent at home increased as many began working from home and vacationing in their backyards instead of elsewhere. Staycations are now a considerable part of many lives, and backyards have become our new resorts.
As the pool industry continues to grow, pool designers and prospective buyers keep searching for new custom inground swimming pool designs. After all, as the new year 2022 rolls in, we make our new year resolutions to improve our lifestyles, so why would pool designers and contractors think differently? They would not!
Below we show a few of the hottest 2022 trends in pool design.
Small Pools
Smaller pools have become super popular for many reasons. Backyards cannot accommodate a larger pool, and families may be smaller than in the past or simply want a pool to sit back, relax, and unwind after a long day's work.
Plunge pools and cocktail pools, otherwise referred to as spools, are the new craze.
Cocktail Pools
Cocktails pools are similar to spas because heating and jets can be installed. They are typically no larger than 4 feet deep and 400 square feet around.
Plunge Pools
Plunge Pools are also small, however, generally deeper than cocktail pools. They usually do not have jets, but it is not out of the question if one desires to install them. Their size can vary; however, a typical size is 8 feet around and 8 to 16 feet deep. They can be custom built in all shapes. These pools are designed for fitness enthusiasts, enabling them to do water aerobics without having a larger pool.
LED Lighting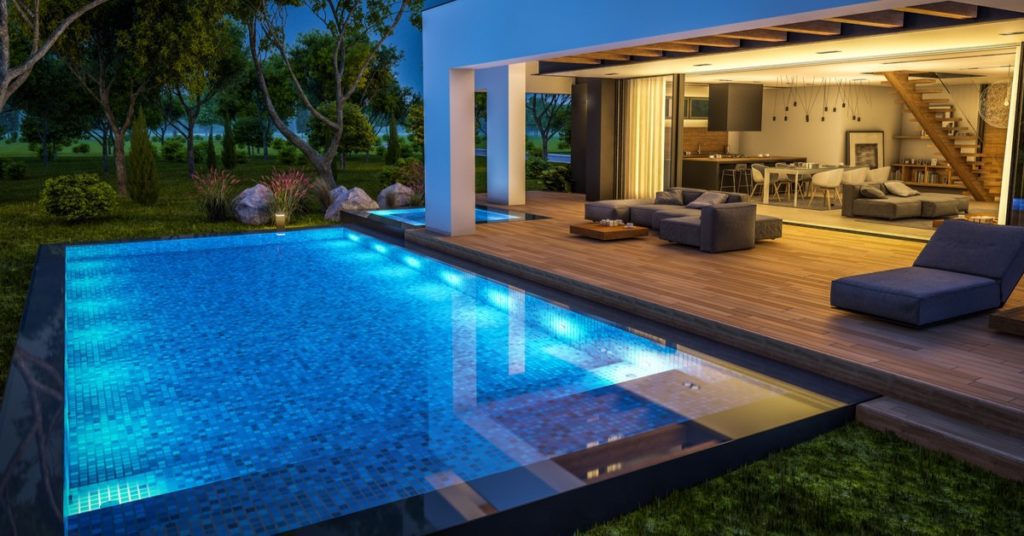 As people spend more time at home and inviting family and friends is becoming the norm again, backyard gatherings are growing after long months of quarantine.
There is nothing like relaxing and entertaining poolside during a hot day, which is true for the nighttime as well.
The right pool and overall backyard lighting can set the mood and bring incredible ambiance to the night. The traditional white-only lights of yesterday are gone. With 2022 comes a spike in vibrant colors with a choice of voltage and wattages. In addition, the new accent lights can now reach areas otherwise hard to access, like steps, waterfalls and more.
The newest state-of-the-art LED lights are brighter, longer-lasting, and more energy-efficient by combining innovation and technology upgrades. The new light controller pads make it easier to control the mood and ambiance.
Fire And Water Combo's
Many of our homes already have pool waterfalls, outdoor fireplaces and fire pits. However, have you thought of mixing both fire and water into one element?
Pool fire and water bowls are an incredible feature for 2022. You start with the fire bowl, which can be placed on a column or retaining wall around the pool, then you add the water to cascade beautifully into the pool. They are incredibly unique and can be custom-designed to fit with the style of your pool.
If you want to go much further, building a fire pit with benches directly within the inground concrete/gunite pool is a new hot trend for 2022; however, this will come at a considerable additional cost.
Baja Shelves
Baja shelves, also known as tanning ledges and sun shelves, are flat areas in the pool's shallow end where kids can play and people can lounge with or without lounge chairs. These are popular at many resorts and are now becoming a hot trend in backyard poolscapes.
Pool Automation
As apps have become a part of our everyday life, why wouldn't you want to apply one to your swimming pool and spa. Afteral,l you have an app to view the outside of your home too see who is in your yard, coming in your driveway or ringing your doorbell. So you might as well get one for your backyard and pool as well.
With new pool automation systems, you can control everything, from the pool equipment, water features, water temperature, timing of the filter, even the LED lighting. Everything will be in the palm of your hand.
Architectural Pools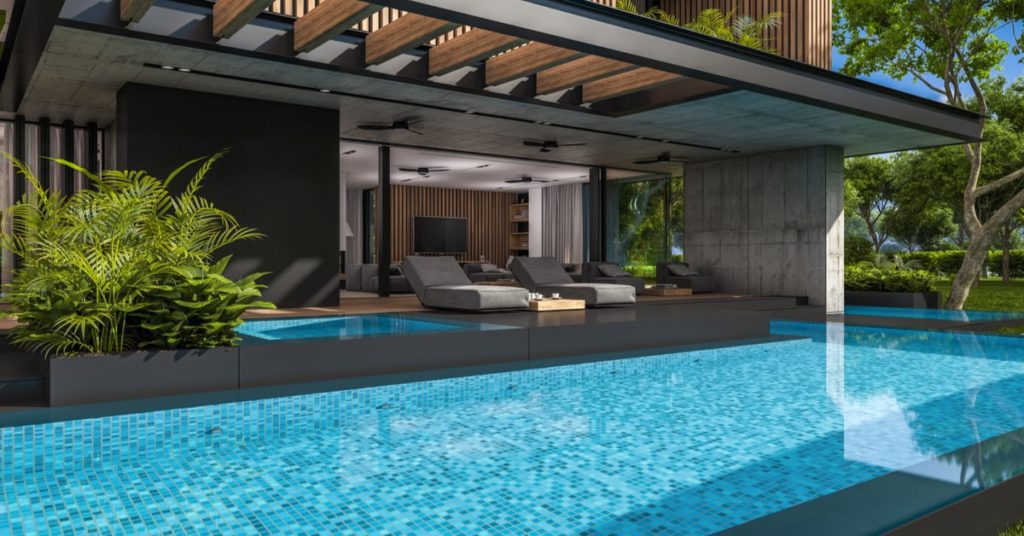 Architectural pools, also referred to as geometric pools have clean straight lines. When we say architectural pools, we mean they are an extension of your home, most often used for high-end homes. The pool is built with the same home's architectural style and materials to achieve a cohesive, consistent look and feel.
Tropical Settings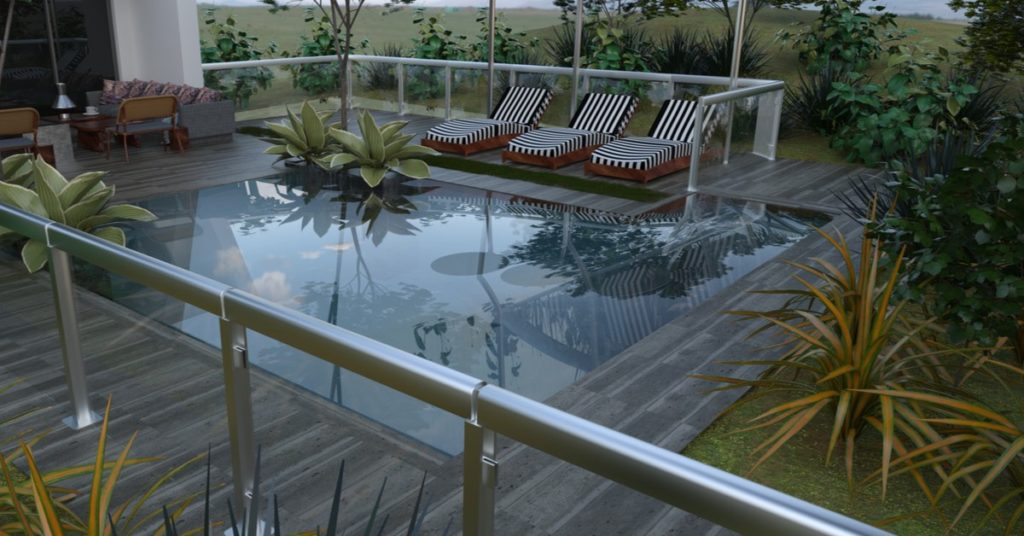 Due to the continuing pandemic, many of our usual vacations to our favorite resorts in the Caribbean or Mexica have been limited or stopped completely. So why not make the same memories in your backyard.
Typically when we think of natural tropical style pools we think freeform, which is most often the norm. However, looking into 2022 homes are incorporating the geometric straight lines as well. No matter which style one chooses paired with tropical landscapes, rock waterfalls and more, these types of pools never go out of style.
The 2022 trends in pool design to achieve a natural and tropical setting are unlimited. This is where hiring a pool builder and backyard pool specialist is vital. There are so many design ideas that it is impossible to explain unless you choose a pool builder specializing in cookie-cutter designs like every other pool in the neighborhood. Remember, your homes style, your lifestyle and backyard layout is not like any other, so why make your pool like all the others.
Bring The 2022 Trends in Pool Design To Your Home
If you want to bring that tropical pool resort in your backyard, match your homes architectural style, have a small pool, have amazing lighting and be the envy of your neighbors with a pool like no other, contact BPS The Backyard Pool Specialists.
As 2022 rolls in let us help your re-think your backyard and how to maximize your pool and backyard investment.